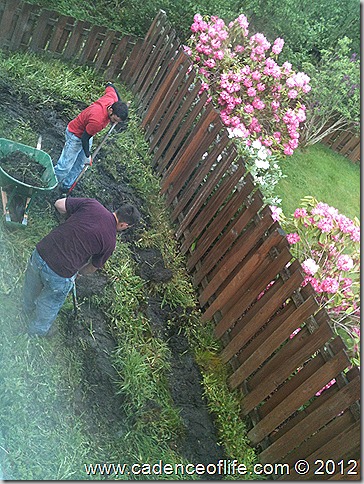 Alternate title: Somewhere in all this crap there must be a pony. Or a backyard patio.
Second alternate title: A yard that was TEN YEARS in the dreaming stage becomes reality.
Earlier this month, I hired the meticulous, hardworking, and talented landscapers at Down to Earth Landscaping to deal with all the mess that was my backyard. These guys are awesome, I tell you. If you're ever in the market…
I digress.
The "yard" I had was a collection of weeds and tiny dog poop (because I gave up caring) on top of multiple ill-advised attempts at DIY landscaping. Underneath all that was a thick, deep, hard base of glacier clay. Man, these guys earned their pay and then some.
They started out by trying to kill the weeds and let it sit for a couple of weeks. That didn't really work. They ended up having to bring in a sod cutter and manually scrape out the entire yard so that we could see what the canvas looked like and develop a plan from there.
Here's their truck as they got started: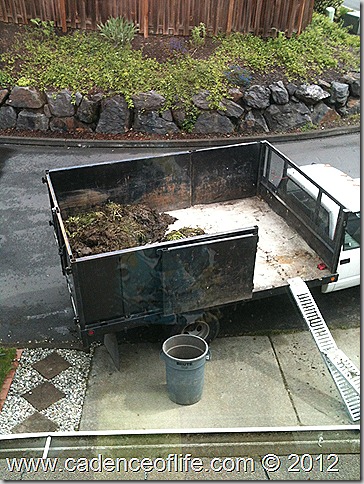 Here's the truck nearly full. When they were all done, it was even fuller than this, if you can imagine that. Man, I bet that stunk. I should have provided masks for them. I wasn't joking when I said I gave up scooping the poop.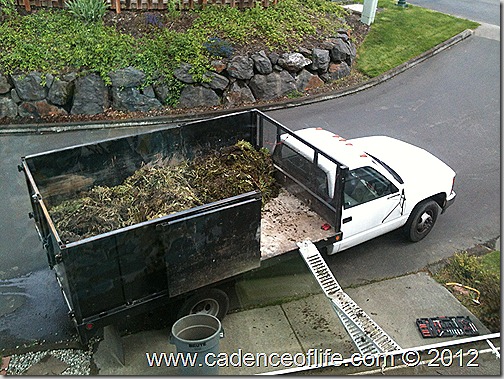 Here is the northwest side of the yard after they pulled everything out. That's some seriously deep mud there.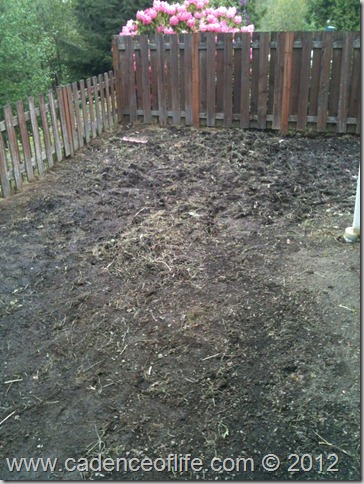 About a week or so later, they're back. Thankfully we had some dry weather and it gave the yard a chance to somewhat dry out.
First up is addressing the serious drainage problem that this yard has/had ever since it was built. The builders really did a poor job of figuring that out and left me, the original homeowner, to deal with fixing it. The trench on the south side of the yard that was dug 100% by hand. Aaron impressed the heck out of me. He dug through 24 inches of hard clay on a warm Pacific Northwest (or North-Wet, if you prefer) day to create this lovely French drain. My neighbor's yard drains into mine (thankyouverymuch) so this drain is a necessity. They also put in a river rock drain on the north side of the yard. Both drains were thoroughly tested to ensure that they really worked. Unlike the measly attempt at a drain the builders put in that never worked.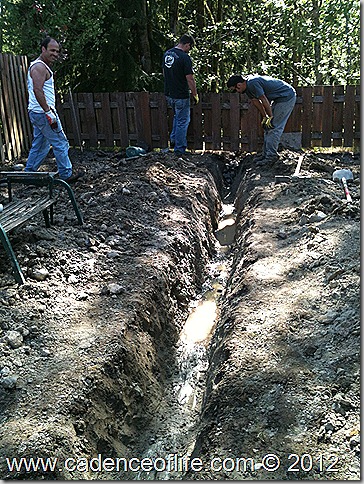 Bringing in the gravel.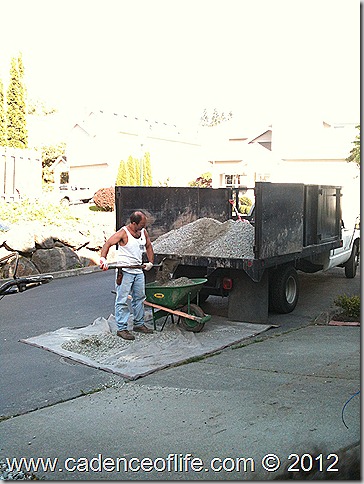 Laila checking out the studly workers. Ok, so she doesn't yet know they are studly. She's really more interested in the rocks.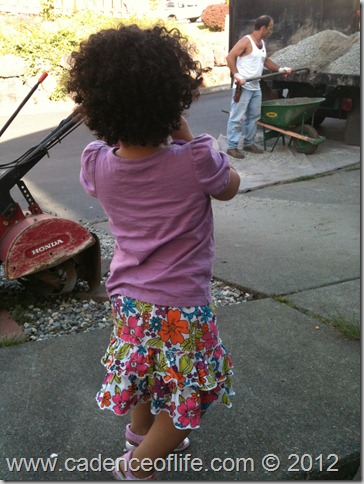 This has to be my all-time favorite picture – Laila helping Aaron, complete with yellow hard hat.
Pavers chosen, purchased, and stacked ready for paving the new patio.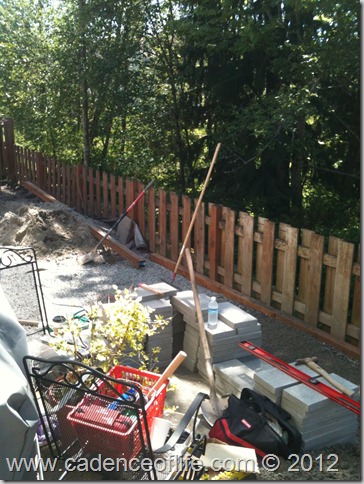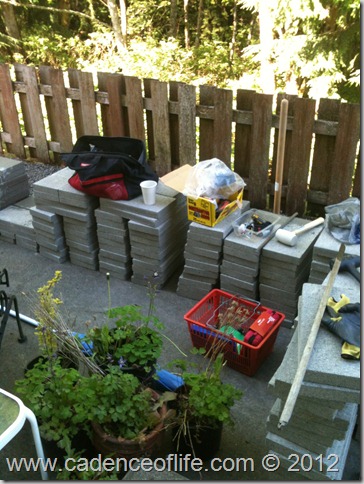 Properly packing down the gravel and leveling the base.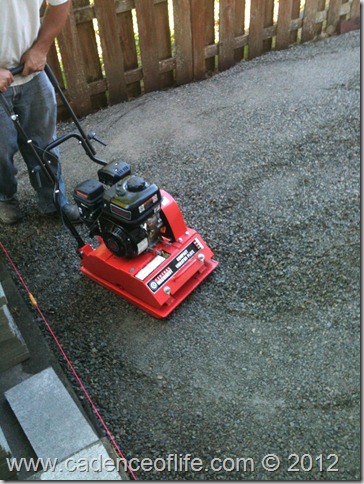 Who knew trowels were used in laying paver patios? I didn't.
The design takes shape. It didn't matter too much to me how they chose to lay them, but the design they came up with was perfect.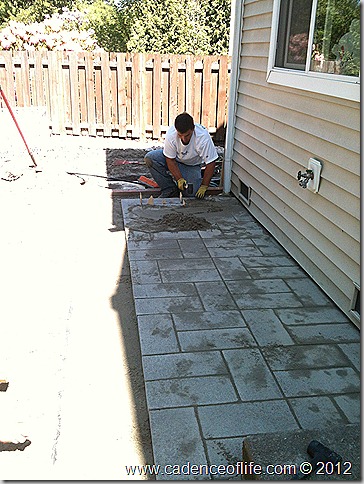 Almost halfway.
John cut rebar to drill into the posts that created the edging of the patio. I think this is the detail that impressed me the most, so far. I would never have thought of this. Those edges aren't going anywhere – I think those rebar pieces were at least 24 inches each.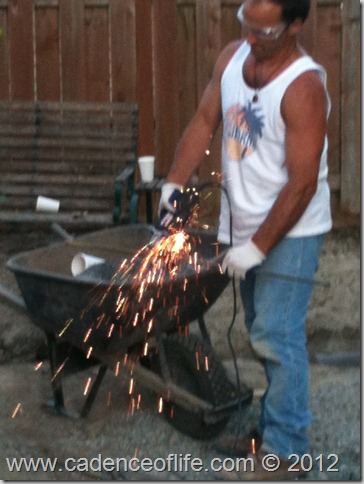 The finished patio. Pre-cleanup. I now have a patio large enough to have three distinct areas: a cooking area for the barbeque, a dining area, and a lounging area.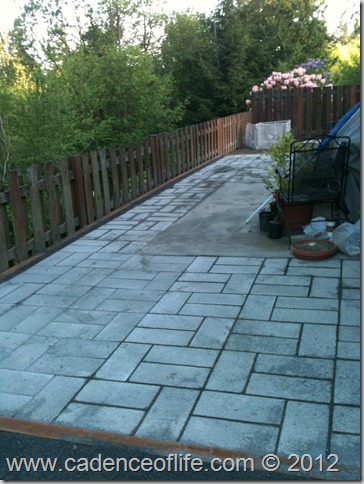 You can see how the patio pavers wrap around the existing dinky concrete slab that was called a patio. (Note to self: Time to pressure wash.)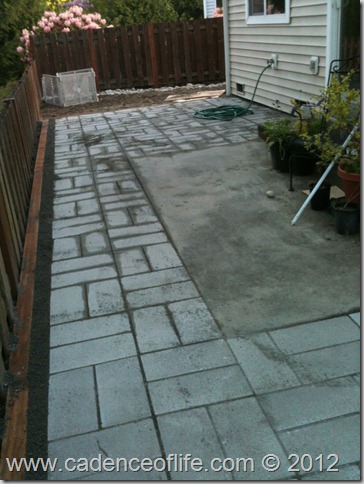 From the window above.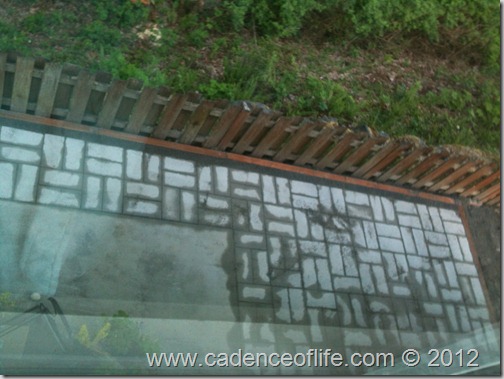 Looking south.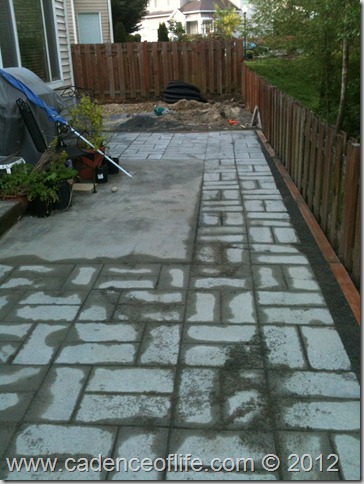 The edging.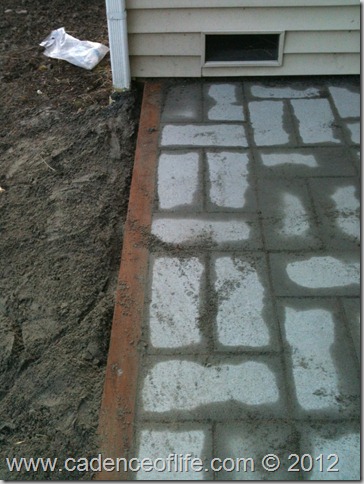 The north side yard, complete with river rock, river bed drain. I'm sure there's a technical term for that type of drain, as it is different than the other drain on the south side of the house. This side will also host a fire pit (in phase X).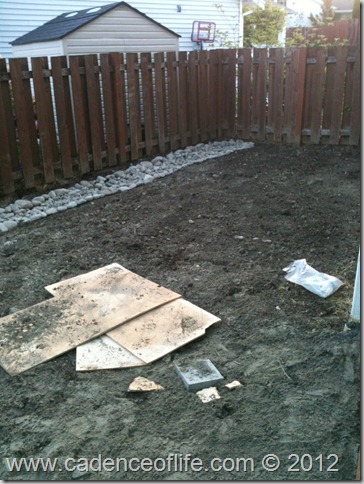 And, the best part? This was all completed on my birthday, May 15th. One of the best birthday presents I have ever given myself. I should have sent myself a card too.
Stay tuned for the fun phase – landscaping!