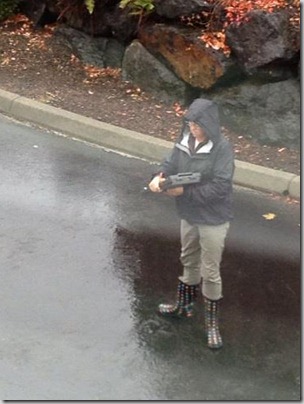 A little backstory: For 11 years, I've had to deal with this homeowners association (HOA), which is mismanaged by this woman. Where we need consistent and non-prejudicial application of the "rules", we get petty letters about insignificant infractions. Where we need quality contractors to maintain our common areas, we get cheap migrant labor who use hand-held scathes to cut down the alder saplings on a hillside. (Is there such a thing as a non hand-held scathe?)
Let's be clear. I live in a really nice neighborhood in suburbia, the homes are less than a dozen years old (I bought mine new) and are adequately maintained, they look nice, and we don't have cases of bright lavender siding or multiple broken down cars on lawns. Yep, no stacked TVs on the front porch either. (Just in my garage… not kidding.) It's a quiet neighborhood. Kids play outside in the summer, parents walk them to the bus stop, and the neighborhood is pretty unremarkable.
Well, except for the one creepy guy who we all think murdered his wife.
Yeah, you get to wait for that story.
During my years of living here, I've had – as some of you know – family members with chronic illnesses, and no one to come take care of home maintenance issues for me. That means that I've received more than one of those happy little letters about insignificant infractions and threats of fines, but this one (nearly) took the cake:

Anyway, this year, I made it my mission to take care of all the deferred maintenance on my home – all while caring for my dying mom and all the duties required after she died, taking care of my toddler granddaughter while my daughter recovers from a severely broken ankle, and holding down a full time job.
I finished the yard. I had the fences professionally pressure washed and stained. I had my entire home pressure washed, the gutters cleaned, and I upgraded my back and side yards. I made a tidy place to put my trashcans out of sight from the street.
My house looks friggin' fantastic.
In the process of doing all that, my one-year-old, shiny red, gas lawnmower died. On the front lawn. My neighbor tried to help me start it. We succeeded for a while, but I'd hurt my back and couldn't start it myself.
So there the lawnmower sat. Dead. Later diagnosed with a case of bad gas. On the front lawn. But it was pretty, clean, new(ish). I figured I'd fix it sooner than later but I had more pressing issues – like my mom's autopsy. (Yes, that story is coming soon – I promise.)
And then I get this email from the evil property manager:
"I was out last week and again today and noticed your lawn mower was parked in the yard. Can you please store it in your garage?"
What? Don't you park your lawnmower in the yard?
That did it, though. I was at my wits end. It was the last filament of my patience with this lady. I blew my cool. I fired back with, "You know what? You can kiss my ass."
Damn, that felt good.
So unlike me to blurt that out – in writing or otherwise. But I was done. Completely done. And you know what? I don't regret it at all. My house looks better than it did new. There is absolutely nothing she can do to me.
Now I laugh at her antics. Because the fear is gone. She has no power over me, my home, or my finances. She can't legally fine me for anything because I haven't done anything wrong.
Now if it happens again, my friend gave me the best explanation:
It's yard art.