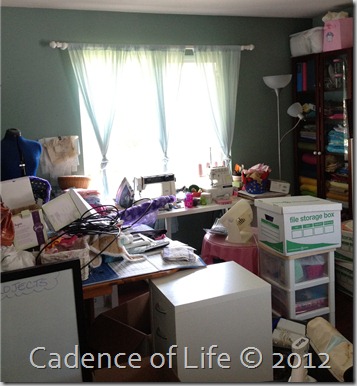 <<—THIS… is what happens when you have chronic illness in your family. Your beloved space (if you're lucky enough to have one) gets filled up with everything that has nowhere to go. It's symbolic, really. Clutter. Chaos. Disorganization. No time or space to breathe and unwind. Nothing is where or how it should be.
This is what I kept diverting my eyes from every time I climbed to the top of the stairs and headed to my office down the hall. It was easy to ignore if I just didn't look. You know how that goes, right?
Finally, things in my life settled down enough that I felt strong enough to tackle this room.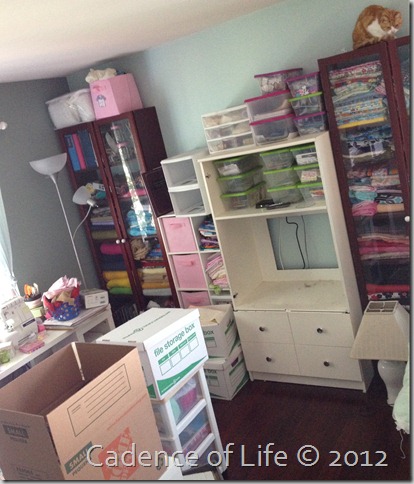 The first thing I did was empty the shelves, box up all the fabrics, and take the shelving units to my daughter's new apartment. The brown ones look so lovely in her dining room, and I returned to her all her pink and green boxes of crafty things there on the white shelf. The white shelf went to her roomie. The cat, I kept.
A couple trips to IKEA and back, and I'm assembling furniture. (I hope to write a post about some tips when shopping IKEA… later.)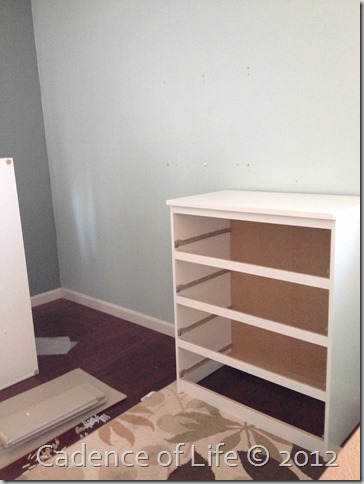 It took me two weekends to finish these as I'm slow. I purchased three Malm four-drawer dressers and the optional glass tops to go on them to create a bank of drawers with a nice countertop height. (Tip: The white ones seem to have a smoother, glossier finish than the black/brown ones, which tend to chip really easily. I know this because my daughter got some black/brown ones.) For $89 each for the dressers, I think I did pretty well.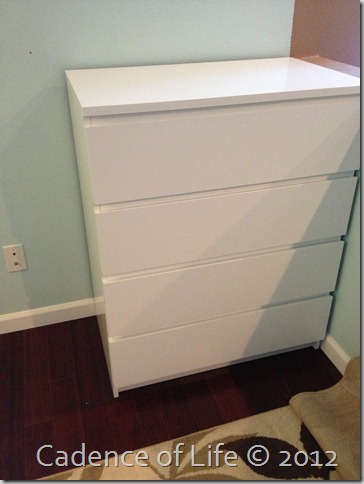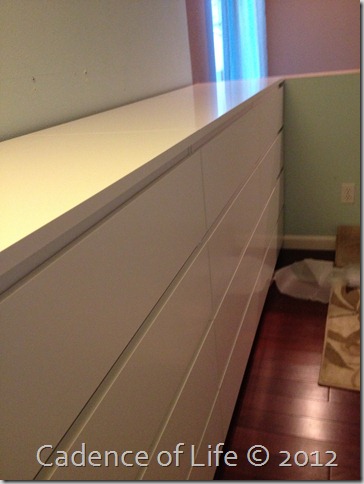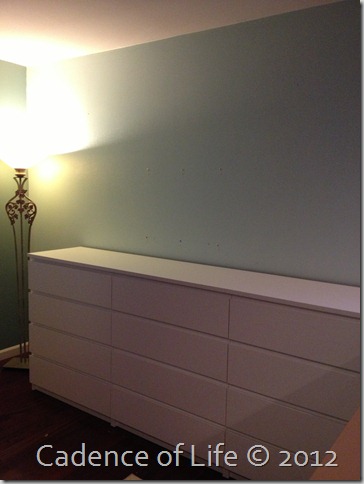 Once I assembled the dressers, I knew I needed to paint the wall. Yes, I should have done that first, but honestly those boxes are heavy and to get them from the car to the house, I had to open each box and carry the pieces inside in small handfuls. That meant that I had to assemble them immediately, or otherwise, things would get lost. Pieces might go missing, and with them, my mind.
The wall had these lovely holes from where I unsuccessfully tried years ago to mount shelves. Even with drywall brackets, it was a huge fail.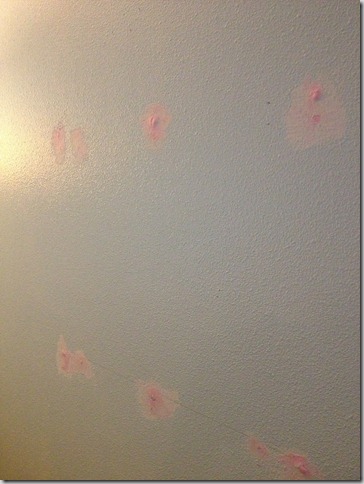 So, I took leftover paint, cut it with some lighter color paint, and got to it one Saturday morning.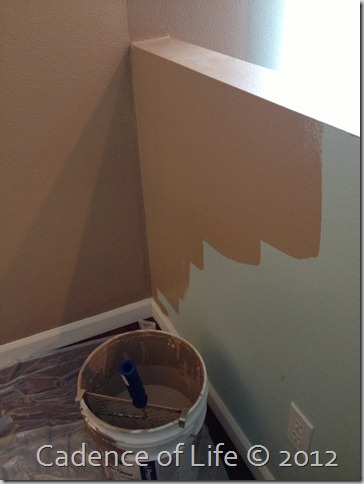 Getting a little worse before it gets better.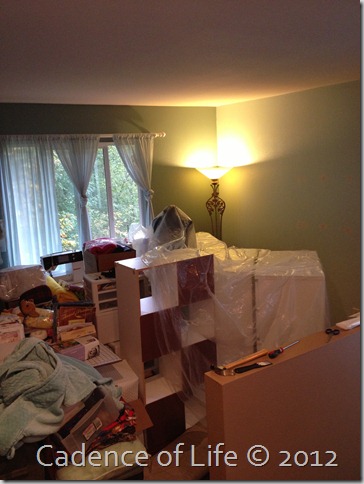 Now with the dressers in place, it was time to start sifting through the fabric and notions and put them in their places. Ruh Roh. I have too much fabric for three sets of dressers.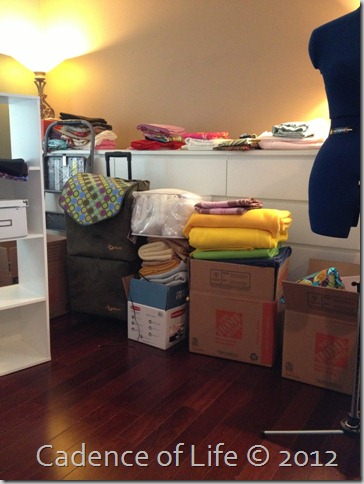 As an aside, I know there are those who say there is never such a thing as "too much fabric". I used to be in that camp. But after being nearly swallowed alive by clutter, and after needing to have breathing room and to reinvent myself, I have concluded that I have too much fabric and some of it needs to go. Or be sewn up. My goal is to sew up 50% of what I have before buying more, and to only have as much as can fit in those drawers – and four drawers are filled with notions and patterns.
Finally, I got some help to move the sewing table to the other side of the room.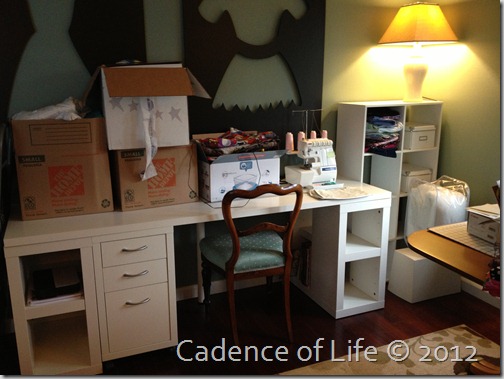 Things are starting to fall into place.
The plan ahead:
The black cutout wall art will move to the opposite side of the room, and possibly even be painted white or – eek! – a different contract color, perhaps… blue? (Suggestions?)
There will be a TV either on the wall above the dressers or on the dressers so I can enjoy my football and movies while I sew.
I'll be adding a small recliner chair of some sort so I can look out the window at the trees while I relax.
Along the wall above the sewing table, I have a set of these to install, and above them or next to them, some magnetic boards from IKEA.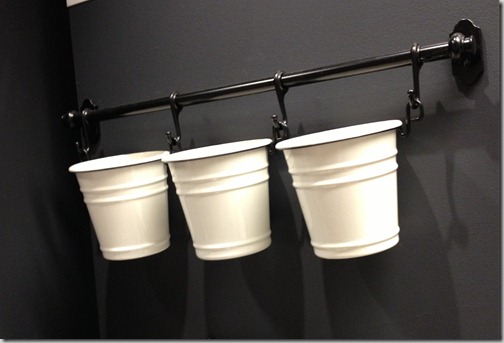 Organization heaven: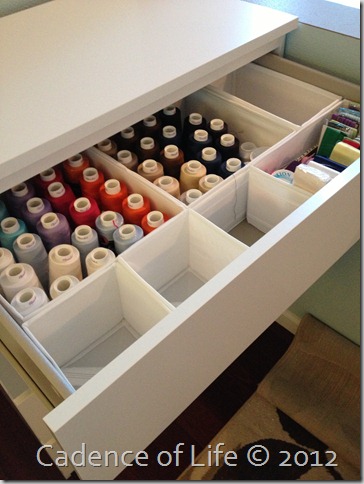 And of course, setting up my new sewing machine!
Much better, yes?  More will be revealed.