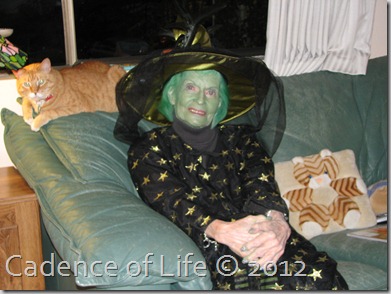 Back in September, I signed up for a six-week bereavement support group – one of the best things I've done for myself since my mom passed away. In this group, I learned so much about the grieving process, signs of grieving, and made new friends, but it also gave me a chance to have two hours a week where I could feel my feelings, cry without shame or having others be uncomfortable, and laugh at stories I told about my mom, particularly her green Halloween hair. That made the group roar with laughter.
It's been four months since mom passed away. Everyone tells you that the grief gets easier, "this too shall pass", and that eventually you will hurt less. One of my support group friends said it best, however: "It doesn't get easier. You just learn to adjust your life around it."  How very, very wise she is. She's lost both her parents too. When I think back to the time I lost my father, and how much I STILL MISS HIM, I realize she is right. The hole in your heart is always there. You just learn to readjust and it slowly changes from being the center focus of every thought. It's like a flesh wound. The scar will always be there, it's just covered over with new skin. The flesh underneath will never be as it was before the wound occurred. Sometimes, though, you'll inadvertently bump the wound, and the ooze of sadness comes pouring out uncontrollably. It happens. I'm accepting that.
There are some people who begin to be uncomfortable when you talk about your loss all the time. They think you should move on. There are some who think it's time for you to get out in the world and have a great time, be around a gazillion people, and socialize, not isolate. There are some who want to soothe your tears and make them stop. That's because it's uncomfortable for them, and also sometimes, because they love you and don't want to see you hurting. All that is good, fine. But what I've learned is that I need to go through this at my own pace. It's normal to NEED to recount the event, the loss, over and over. That's NORMAL. It's also normal to need to be alone, to find it hard to socialize. I have learned that I need to be gentle with myself, to learn self-care, and to heal. That wound is still very raw, but healing.
I don't think I'm isolating. Rather, I think I'm nesting. I'm readjusting. I'm readjusting to a life without my mother who was a very central, core part of my life and who I have become today. My life as an adult with no surviving parents. The oldest in my family (not counting my two older brothers.) I'm reconnecting to myself. I'm sifting through years of clutter that piled up and paperwork that needs to be filed. I'm working a full-time job, and sometimes the energy required for that job is all I can handle, so by the end of the day, all I do is crash on the sofa.
I'm readjusting my home, my life, my perspectives. I'm no longer full-time caretaker of my granddaughter, but part-time, and moving to full-time loving, doting grandma. My daughters are doing fine on their own and don't need me. This leaves me with me. What do I want to do with my life? These are the things I'm working on now. I'm recreating places in my home that give me comfort and happiness so that when I get back out into the social world, I have my safe spot to return to.
Here, I'm still going to talk about my loss as much as I need to. But I'm also planning on sharing with you some of the fun and wonderful things that are near on the horizon for me. Like, my sewing room. My upcoming trip to Hawaii – SOLO! And the holidays – oh, the holidays. I only have thought as far as Halloween. One of the things the bereavement group leaders suggest when it comes to anniversaries and special events is to acknowledge the loss, sometimes do something different, celebrate the day somehow, and recognize that day for what it is. So, this Halloween, I'm going to Hawaii. I'm not having a Halloween party. I'm not dressing up. But rather, I'm taking the picture of my mom and her green hair with me, and honoring myself too by doing what I need to do to readjust my life and start living for me.
Thank you for listening.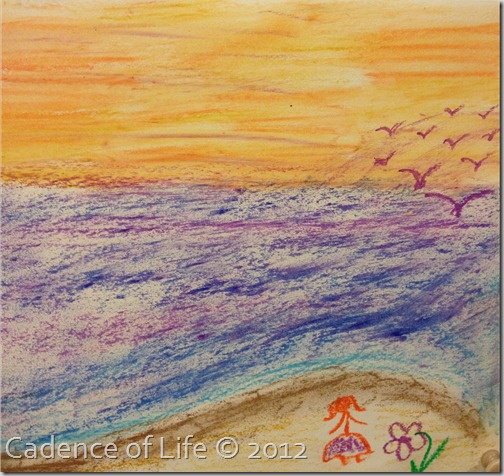 We had a creative exercise at bereavement group and I picked up the oil pastels, and started coloring. This is what came from my soul. I guess my soul needs this Hawaii trip.