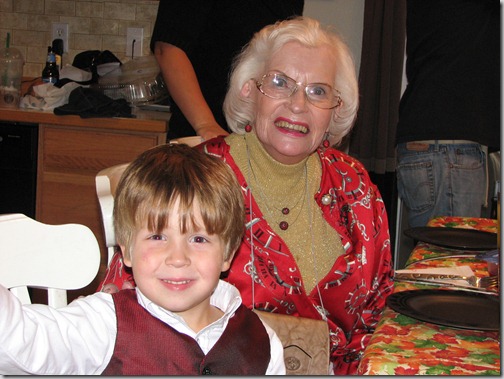 My mom and my oldest grandson – Thanksgiving 2009
We probably had a family Thanksgiving in 2010 as well, but I don't have any pictures of it.Thanksgiving 2011 was one I think we all want to forget in some way or another.
And here it is, Thanksgiving 2012.
Nothing today will be like it has been for prior Thanksgiving celebrations. My mom is not here. She was the glue that kept us all together. When she passed, our family fell apart as we knew it. I have come to accept that and understand that life changes. Everything changes. At first, it feels as if nothing will ever be as good as it was. In hindsight, things might not have been as wonderful or as perfect as they seemed.
Changes are necessary for life to evolve and become better. Each of us has our own path to forge, and that includes my daughters as well as me. This year I have learned how to be a better mother, more supportive, more understanding, more forgiving, less judgmental or controlling, and, most importantly, I have learned how to untie the apron strings. I am learning that I have a future too and to face my fears of forging ahead solo – not as a daughter, not as a mother, not as a caretaker to chronically ill family members but as a woman with my own dreams, reinventing myself.
Fear of change isn't a fear of losing what you had, it's a fear of the unknown ahead.
Today I am embracing the day with a smile. Literally, I felt myself smiling from within and on my face. Something that I haven't felt in what feels like forever.
Today I will spend time with both my daughters and my grandchildren. Today I do not have to lift a finger to cook anything. Today I can relax, enjoy, and EXHALE.
Today I am grateful for everything I already have. I don't need to shop Black Friday sales because I have enough. In fact, I probably have too much. I will spend my holiday weekend clearing out closets, cupboards, and making room for Christmas decorations. I'll spend some time at my new sewing machine starting some small, easy projects for holiday gifts.
Today I am embracing the approaching holiday season with a quiet exhilaration. I feel my mother's joy of Christmas deep in my soul, and I will celebrate it in my way honoring her and feeling alive. This is what she would want as well.
Today I will hug and love the family I still have – two daughters who I love with every ounce of my being. Together we will reinvent our family and build new traditions somehow.
Today I am thankful to my higher power for every blessing I have been given. Even when it is disguised in heartache and pain.
But please, bring on the JOY. I'm ready.
Love you all, my friends.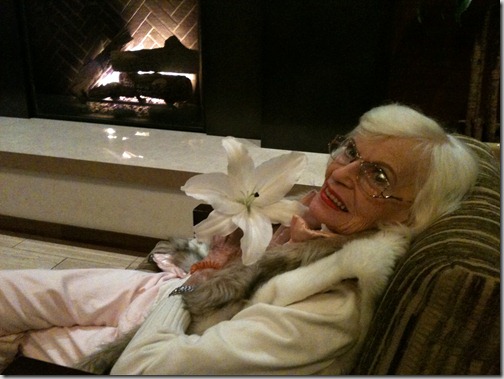 Mom and me at the Heathman Hotel, Kirkland, Washington – mid November 2011. The doorman gave her that beautiful white lily. We had some lovely dinners together at the Heathman Hotel. What I wouldn't give for just one more with her.