Let the changes begin.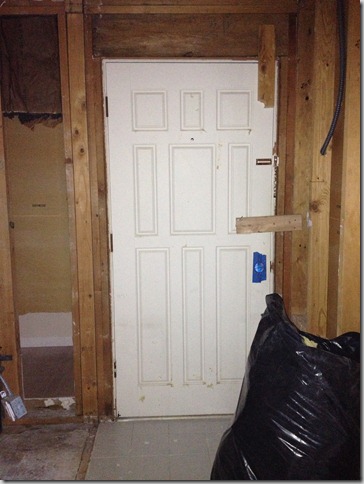 This door has been hidden behind drywall since 1996.
This door was revealed today and made me cry.
I didn't anticipate these feelings.
The memories that were hidden surfaced today. Memories of walking through that door when my father was alive and both my parents lived there. Walking through the hallway to the living room that was packed with people saying their goodbyes to my dad. Taking my place on the sofa next to my father as he held my hand with his big strong hands. The oxygen helped him breathe. It was the last time I sat on the couch with him before they left for Palm Springs.
My father never walked through that door again.
My father died in Palm Springs.
~~~~~~~~~~~~~
My mom came back. She walked through that door so many times alone.
She slept on the floor by the sliding glass door, listening to the water below the condo. Trying to stay close to my father's spirit.
Three years after my dad passed, my mom bought the condo next to this one and covered up the door with a bathroom wall and giant jetted bathtub big enough for at least five toddlers.
She knocked down the walls in between and made a large spacious condo which she filled up with family and friends.
My mom used a different door to go in and out of her condo until the day she walked through that door for the last time.
~~~~~~~~~~~
The walls between the two units are going back up and the two condos will be sold.
I will eventually walk through that door one last time.
After that, I have no idea the path that I will follow.
But I know that on that path, the spirits of both my parents will escort me – sometimes making themselves known, like they did today, and sometimes just silently guiding, observing, encouraging, comforting me.
I will find my own door.