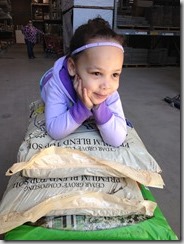 I love Laila's dreamy expression as she poses on a pile of dirt bags from the big box hardware store. I have the dreamy look going on these days. I was taught a long time ago not to make any major changes within a year following a traumatic or life-altering event in your life. I see why. Emotions have to be processed. Things need to settle down. The cloud of grief needs to lift, at least somewhat, so that things can be seen clearly. Decisions can then be made based on reality, rational thought, and objectivity.
It's nearing the one-year anniversary of when I lost my mom–my only remaining parent. Since her death, I've still been taking care of her estate and everything that was left behind. I've been selling the properties, closing accounts, dealing with taxes, and so forth. All this is winding down and likely will be finished by the end of the summer, if not sooner. There are only a couple more things to close out, and I'll be done.
The universe is now conspiring to make me live my life for me. How cool is that? I don't have a job that ties me down or limits me to any location or schedule. My future is currently determined by how much effort I'm willing to put forth into creating it. The canvas is blank. I can use any medium, color palette, or texture I want to create my future. And it's not lost on me just how rare an opportunity, a gift, this is for me, or for anyone, really.
Even a month ago, maybe two, this prospect scared the bejeebs out of me. I've wanted to stay hidden under my shell, protecting myself from further hurt and pain. Scared of living a life. However, I've gradually come to terms with losing mom, and come to terms with the fragility of my own life, and that it's not waiting for me to catch up. So many things I dream of doing and the time is now.
Starting with an epic road trip this summer. Coast to coast. I will visit places that are on my "leap" list. For realz, friends. And yes, I'll blog it (and journal it for my future book).
This is just the start. I am energized yet pragmatic, scared but confident. I am more me now than I have ever been and it feels fantastic.