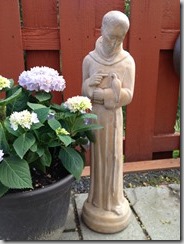 Has it really been a month since I wrote a blog post? Not like there hasn't been an overflow of post-worthy thoughts running through my head. There was a time I'd blog almost everything that was happening in my life. I don't know what happened – no, I do. Life changed and I had to retreat into privacy and deal with the massive blow of losing my mother and the manner in which she died. A year ago yesterday, I signed the papers for her to be admitted into the hospice care program. She was able to stay where she lived, and the hospice people came to her, and the facility in which she lived was charged with her care and medication management. They made a gross error and overdosed – aka killed – her with morphine. You can read about that here.
Since then, I've been managing the execution of her estate, selling her properties, closing out accounts, and handling all her affairs. Still, in many ways, taking care of my mom, long after her death. Now comes the really hard part of learning to let go and move on. As the saying goes, "feel the fear and do it anyway."
What's next is me taking charge of my own life and directing my path, not reacting to events surrounding me as a way to live my life. I have some grand plans, and some modest plans, ahead. I've been unemployed since the end of January, and loving every single minute of it. Honestly, that was the best thing I never chose to have happen. I've been able to relax, feel, live, breath, recuperate, regenerate, and refocus. I've actually been quite busy. I don't miss my prior job one single bit. I love not being chained to my computer or my desk from 8-5. Believe me, even working at home, with a job like that it was nearly impossible to take a break or have any sort of freedom without massive guilt pangs or needing to check my email every 10 minutes. I was so grateful for that job, and I learned so much from it. I don't regret it at all. However, now I have a chance to write my own job, set my own schedule and hours, and be the author of my own life for the next 50 years.

The hard work of processing the loss and letting go of my mother begins now. I have joined the club of what I call adult orphans – adults who have lost both parents. We all lose parents. People tell me that all the time – sometimes with exasperation because they're sick of hearing about my loss (you may be as well) – but the experience for each person is unique and personal and there is no preset time in which a person "gets over it". In fact, people don't get over the loss of a loved one. They just adapt to the emptiness and move along and make the best of the rest of their life. That's what I'm doing.
My promise to you – if you've followed along this far with me and not thrown in the towel – is that I promise to have more uplifting and happy posts, but honest and real. Fun posts like I did before, several years ago on my sewing blog and even here. Posts about sewing, gardening, fitness, grandchildren and children, and my new life journey. And I have some EPIC plans in store for myself. (Epic: my new favorite word.)
This really is about my cadence of life.