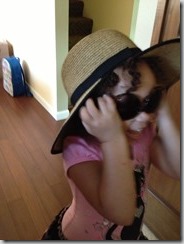 Hello friends. Miss me? It's been almost three months since I've blogged. I'm really tired of writing about epic changes, but indeed, that's how my life has been lately.
A while back, I had an epiphany.  I had a dream where my parents both came and spoke to me, along with my grandmother, and another woman I knew who has passed on. My parents told me to let go and move on so that THEY could move on. This dream made me literally wake up, but also to take notice, and move forward out of my grief.  I needed to stop deciding what to do with my life based on a motive that it would make my parents proud. In the dream, my parents made it clear that they were already proud of me and that I needed to start to live my life for myself, and not for others.
A while after having that dream, I suddenly had the thought that it was time to move. Time to sell the too-large house and downsize. Actually, I had been thinking about it for some time – years, even. Back when my mom was alive, I had admitted to myself that my house, even though I loved it, was too much for me and that I was overextended. The poor housing market made it a bad time to sell, as well as being too busy caring for my mom and the rest of my family. The house took up all my time and there was no time for socializing, even sewing. It seemed that all I did was take care of the yard and interior. Some of that was fun, yes, but some of it was just a burden.
Now, in Seattle, the housing market is bubbling up. I estimate that it's nearly where it was pre-bust 2008. I recall saying then, "Just wait five years, it will come back." And it certainly has. As a result, it seemed to be the most opportune time for me to sell my lovely home and make the most from it that I possibly could. And sell it I did –and fast. It was on the market for eight days and I got a full price offer. I sold it for just a bit less than the price my neighbor got in 2008.
The funny thing is that in my life when I make a decision, or am inspired to make a change, if it is meant to be, things usually move rapidly and smoothly. And boy, did everything happen quickly. The house sold, I found a sweet little condo, and moved myself as well as my youngest daughter and my granddaughter. We are now in Portland, Oregon, here is where my story started. I hope you hang in there with me. I have so much to share with you. Time to continue this story – for me.