You know the saying…"If you want to hear God laugh, tell him your plans."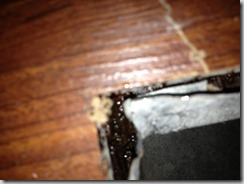 Here I was, getting all settled in – well, starting to settle in – to my new place and seems that God and the universe had different plans for me.
I had been in my new-to-me condo for almost exactly one month when I noticed water under a floorboard in the half-bath on the main level of my home. (My home is three levels – top level is guest suite, main level is living areas, and lower level is the master bedroom and master bath.) The water was in close proximity to the hot water tank, but the area around the hot water tank was dry, so I assumed the issue was within the pipes inside the walls. I immediately scheduled a plumber and then called the HOA (homeowners association) property manager to let him know what I noticed and ask for guidance. (In a condo, pipes inside a wall are the responsibility of the association, anything inside the unit from the wall surfaces and personal belongings is the responsibility of the owner.) At this point, I wasn't too alarmed because it didn't look like much water but the floor was a bit squishy when I stepped on it. Still… water is nothing to mess with.
The next morning, I noticed some puckers in the ceiling of the master bath directly below the bath where I spotted the water the day before. When I touched the ceiling, it was soft and I could easily press up on the ceiling, leaving a dent. Now I was alarmed. It had to be a great deal of water to do that to the ceiling.
So, after several emails and attempts later to reach people in authority, I finally got guidance to get someone out right away. It was still the next morning before the plumber arrived. It took him no time at all to determine that there was "a lot of water" in the floor between the two bathrooms. However, we didn't know the source of the leak. We had to call in a second company who tore off drywall and opened walls and floors to reveal a lot of water and… MOLD. Eeww, God.
The following picture is from behind a cabinet that was in my master bath. I had been breathing this for a month. I smelled it, I knew the downstairs had humidity issues (was wet somehow) but I didn't know how. I have a bionic sniffer, for sure. Not to mention that this was causing me dizziness and fatigue. I even went to the doctor to figure out why I was dizzy and chalked it up to extreme exhaustion from the stress of the last year or so.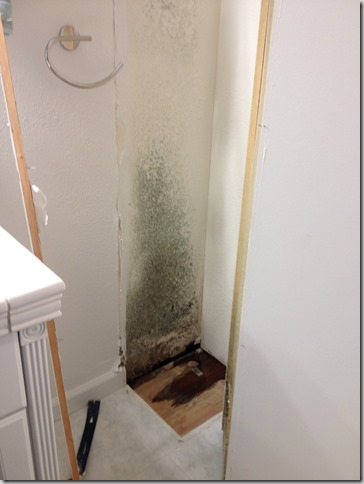 After a few hours of opening walls, removing water, shutting off water (not all in that order, of course), we determined that the cause of the leak was a nail that pierced a copper pipe. This happened, evidently, last November when the prior owner had the half bath remodeled. The nail was the incorrect length to use and went straight through the metal protector piece and into the pipe. The leak started then, continued slowly, was not evident through the pre-closing inspection, and finally gave way one month into my living there.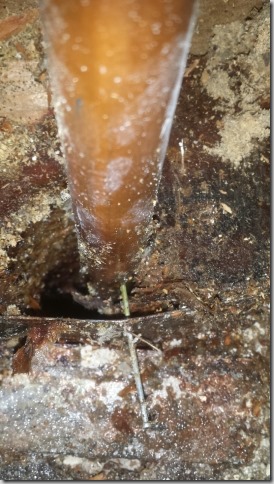 So, here I am in construction zone again… again! The first two days of this journey, I was so stoic, moving straight into my normal get-er-done mode that I didn't stop to really digest what had just happened. When I woke up in my hotel room on Monday morning, I broke down. This was NOT WHAT I HAD PLANNED. I had chosen a home that I figured would be move-in ready, which I could upgrade with my own choices of paint and flooring as I went along, but essentially I'd be done with all the heavy homeownership requirements. I'd be free to work, play, knit, travel, ride my bike, and just relax for a while and live my life.
In hindsight, now 12 days into this adventure, what happened is exactly as it should be and a blessing in disguise. It's a blessing because the source of the musty smell and humidity has been solved and will be eliminated. The house will be dry and I'll be able to have zero mold and clean paint, and even toss in some of my own money to put my own touch in the master bathroom.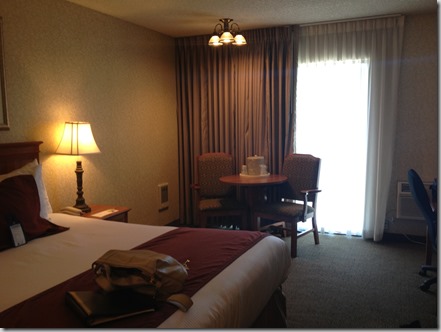 After a couple days, I started laughing and understanding the humor in all this. I – the overachiever, the go-100mph-nonstop woman, the caretaker – needed a rest. The universe knew that the only way I would stop and rest would be if I was stuck in a hotel room with my puppy and not much else to do.
Once again, God knew better than I what I needed. And thank you for that.
It's going to be another week or so before I'm back in my home. By that time I will have been out of my home  for nearly as long as I was in it. I have days I cry inside because I'm so tired and exhausted, and moments where I'm energized and eager to continue picking out paint for my walls and flowers for my outdoor pots. But mostly I'm just grateful. Grateful that the problem was found and I'm not going bankrupt because of it. It's just a pothole on the road of life and I'm maneuvering around it just fine, with help from my friends, family, and of course, my higher power.
And blessed. Really blessed. This is the view from my hotel room.