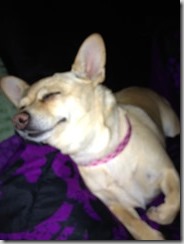 This picture sums up how we feel about moving here. That is my daughter's dog, Trixie. Who said dogs don't smile?
We just love our new homes. There have been so many coincidences and serendipitous moments that prove to us that we definitely made the right decision to move here. It's been a long, hard move with too much stuff to deal with and very little physical labor help. It's been a slow process opening boxes and unpacking and wondering just why in Hades I packed that thing. As I unpack, I have boxes quickly filling up that will go to the local Goodwill donation center. Some things still up in a storage locker in Seattle will also get donated before bringing the rest of the stuff down here. Most of what's left is memorabilia and things that were my mom's. I have to sort through that stuff still and that takes time. I can't make snap decisions about that stuff like I can my own stuff.
In hindsight, there are a few things I would do differently next time, particularly when moving from one state to another. (My thoughts have to do with the DIY move, not where you have professionals come in and pack and move you, as you might have with a job relocation where the company pays for your move.)
Sell everything. Seriously. Sell everything except clothes and personal items that you really must keep. Even the large furniture, unless it's a family heirloom or something, can be sold, if you have the time to do it. The money spent to hire movers to move the stuff could be better spent purchasing new items in your new location. And shopping is way more fun. I had just purchased a brand new bedroom set, so I wasn't about to sell that. However, pretty much everything else except for a couple antique tables could have been sold and I would have been happy sitting on the floor while shopping for new sofas.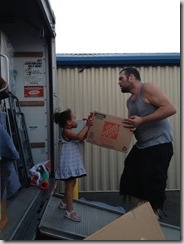 Don't ask friends to help you move, even if you're willing to pay them. I did and was disappointed and hurt. One said he had to work the whole weekend, and the other who was a professional driver didn't respond until the day before we were scheduled to move (I'd given him several days notice when I asked.) People are human and they will disappoint you. It's a sad lesson to learn. On the other hand, I did have some willing helpers in my oldest daughter and step-daughter and for them I am eternally grateful – even if one box they packed was labeled "Kitchen Crap." Ouch.
Hire professional laborers. Yes, you can hire muscle only. With the exception of some really stupid loading mistakes, the workers I hired worked really hard and were very conscientious about my items. The stupid loading mistakes were mostly from the workers not working "smart" and paying attention to the word "fragile" written on the boxes.
Pack your own items. If you can, pack
your own boxes. You know better than anyone else the value of your items, and stuff that is really irreplaceable should be hand-carried by you to the new location, if at all possible. If not hand-carried, then make sure it's packed safely in boxes surrounded with your sofa pillows, plenty of bubble wrap, and/or towels and linens. That's the only way my mother's heirloom lamps survived the move.
Sort and purge as you pack, not as you unpack. This sounds like a no-brainer, but honestly, it kind of goes back to my first point. There is so much less that you need in your new place than you think. I needed to remember that I was downsizing and would not have room for half the stuff I packed and moved. The rule of thumb I always like to remember is that if I haven't used it in a year, I probably don't need to bring it with me.

Slow down. This applies mostly to the loading and unloading. I hired muscle (laborers) who were paid by the hour. They were hard workers and worked quickly and steadily. However, in hindsight, I wish I had urged them to slow down a bit – even if I had to pay for an additional hour or two – and let me think as things were being loaded and unloaded. I could have supervised the loading a bit better and helped to ensure that the hardware to the bed made it along with the bed (it didn't), and I could have directed the unloading a bit better so that the boxes and furniture made it to the right rooms (they didn't.) My daughter's apartment looked like a hoarder's apartment because they stacked all the furniture and boxes in the living room. At my house, most of the stuff landed in the garage or in the wrong rooms. We had to pay for additional help to get the stuff moved to all the right places.
Remember to rest and eat right. I forgot this one a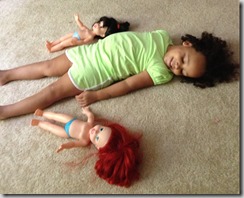 lot. Mostly because I just don't stop. I become driven and machine-like. By forgetting to eat and rest, I ended up being beyond exhausted. My inner doctor (self) figured I was severely exhausted, suffering from dizziness and extreme fatigue. It was like a mega-flare of fibro combined with lightheadedness and heat exhaustion. I'm better now.
Enjoy the journey. This is probably the most important tip I have. One chapter closes, another opens. Remember to stop and acknowledge that everything in life changes and be grateful for the blessings received in both locations. I consciously made time in the process to stop for a few moments and acknowledge the home (not just a house) that I sold and left behind and all the memories I had (good and not-so-good) about where I was. I was then able to enjoy the process of hope and excitement about where I am headed.
All that said, I'm happy the move is behind me. Now comes all the unpacking, painting, and decorating. That's kind of the fun part. Oh, and exploring my new town. More about all that in future posts.
Do you have any additional tips for moving? What was the biggest lesson for moving that you learned in hindsight?