This year, 2014, the Seattle Seahawks are IN the Super Bowl. The mother of all football games. I am beyond excited. I've been a Seahawks fan since the days of the Kingdome in Seattle, when my parents held season tickets, and now I hold the season tickets. I've always loved football but started really paying attention to football in the days of quarterback Matt Hasslebeck  and head coach Mike Holmgren. Now we have quarterback Russell Wilson and head coach Pete Carroll. I remember a few years ago, when they first hired Pete Carroll to be the Seahawks new head coach, my mother asked me whether we should renew the tickets. I encouraged her to give the team another year and see what happened. She died in June, 2012, before this wonderful season began but attended games at Century Link (previously Qwest) stadium until she was 90 years old.
But I digress…
Sports – all sports -  exemplify the quest for superiority, for greatness, for perfection, and mastery of the physical body. Watch any football player go flying through the air at maximum velocity, catch the football, and then land with both tiptoes in the corner of an end zone and tell me that's not artistry in motion. It's seems almost implausible that a lumbering, six-foot-plus man could be so much like a ballerina at times.
It's human nature to strive for excellence, to be the best we can be. The commercials and movies that capture our attention often include stories of the underdog coming out on top, of the struggles within ourselves and our circumstances, and the lengths to which we will go to overcome them. We persist. We try. We fall. We get back up. We try again. We always, always have hope.
We cheer and salute the Nelson Mandela's and  Steve Jobs' of the world, the child who survives a heart transplant, the woman who kicks breast cancer and the person who doesn't allow circumstances (poor health, bad family, dangerous neighborhood, violence, captivity, or loss of any kind) to define them. We cry at these stories. We feel empowered by these stories because they tell us that we are only limited by our own minds. If we think we can't, we can't. Conversely, if we think we can, we CAN. In the words of the Seahawks quarterback, Russell Wilson, "Why not me?" and "Why not us?"
Why not us? Why not the Seahawks? This is a team that since its inception has been the butt of jokes, has been called disparaging nick-names, has been laughed at and rarely taken seriously by other fans and the National Football League, in general. In our one other visit to the Super Bowl, we were definitely the underdogs, and even the refs didn't take us seriously at times.
Did that stop us? Did that stop the Seahawks fans from believing? Not at all. In fact, I believe that this adversity caused us to be stronger, more loyal, and more vehement in our support of our team. #LOUDER, in fact.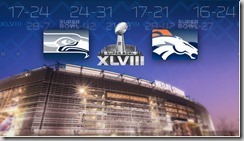 Today, we play the Denver Broncos who have a two-time Super Bowl winner in Peyton Manning. He clearly is a great quarterback, and, by comparison, our quarterback, Russell Wilson, is only in his second year in the NFL with his first trip to the Super Bowl. The odds are against us, some would say. The Broncos may be favored but don't count us out. We have some things on our side that are unseen to many, I believe, and not overly mentioned in the media. We have a quarterback who believes in God and doesn't hide that fact. We have a team that exemplifies the definition of teamwork – they LIKE each other. They play TOGETHER. No one man is a star without the others and they all willingly acknowledge that. They play together as if each game is a championship game. They play at their very best without focusing on the outcome.
I have a saying in my life that has helped me along my journey: Do the footwork and leave the results up to God. I believe, in some way, the Seahawks follow that same philosophy. Seahawks running back Marshawn Lynch says, "I'm just about that action, Boss." Actions speak louder than words, and he personifies this.
I love the Seahawks because of all this, and more that I find hard to articulate. We have passion, camaraderie, spirit, volume, energy, and FAITH. This is our time. We believe. We believe we can prevail and succeed – heck, we've succeeded just getting this far. We have every chance to win this game. Why not us? And if when we win, I'm sure the volume of the 12s (fans) will be heard all the way from MetLife Stadium in New Jersey to Century Link Field in Seattle.
Let's get fired up!